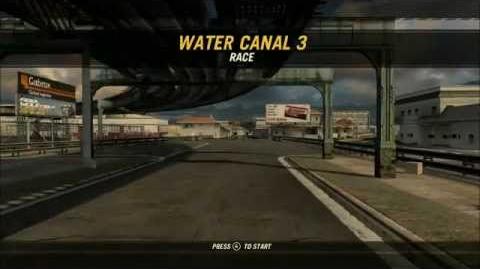 The Water Canal 3 is one part of the big
Location
:
Water Canal
in
FlatOut 2
and
FlatOut: Ultmate Carnage
. This track in the
Water Canal
.
Description
Edit
Shortest canal route featuring open-air bascetball courts and multipple canal crossings.
FlatOut 2 era.
Edit
In
FlatOut 2
Water Canal 3 is really cool and fun track. Very short, with the big tramplins and the shops around the track. Absolutely one of the funniest tracks in the game.
FlatOut: Ultimate Carnage era.
Edit
In
FlatOut: Ultimate Carnage
the track has been changed. It's more mad now and there's much much better havoc ever. Really short, cool and you can get a lot of fun.
Now, you can race by cloudy day and sunset. This means that you can change the time of day and play with different map's lights.
The Water Canal 3 still one of the coollest tracks in FlatOut.