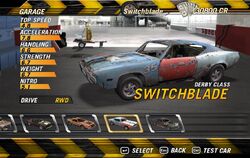 Switchblade is a Derby Class car in FlatOut 2 and FlatOut: Ultimate Carnage.
It is the eighth vehicle to be unlocked in the its class, in the third tier. It has good speed and acceleration, and better handling than most other muscle cars. Its weight is distributed well, allowing it to perform large jumps and powerslides with ease. Its main drawback is its low strength.
It resembles a 1968 Chevrolet Chevelle.
The Switchblade is driven by Katie Jackson.
FlatOut 2 era
[
]
Redline: 5.500 rpm
Cost: 10500 CR
Drive RWD
Stock Performance
[
]
Top Speed 3.0 (199 km/h)
Acceleration 6.7 (4 Gears)
Handling 5.5
Strength 7.2
Weight 6.0
Nitro 2.2
Upgraded Performance
[
]
Top Speed 4.8 (237 km/h)
Acceleration 7.8 (4 Gears)
Handling 6.6
Strength 6.7
Weight 6.7
Nitro 5.1
FlatOut: Ultimate carnage era
[
]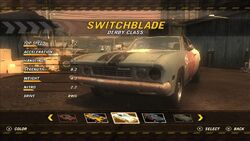 In FOUC Switchblade has been changed.
Top Speed 6,0
Acceleration 7.2
Handling 5.5
Strenght 8.2
Weight 4.9
Nitro 5,6
Drive RWD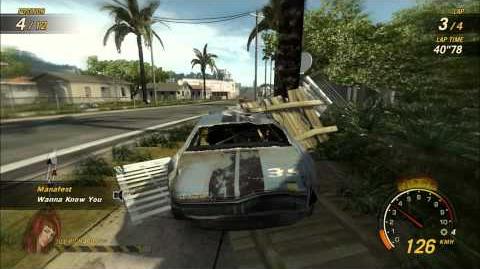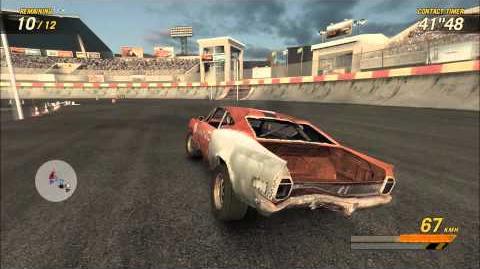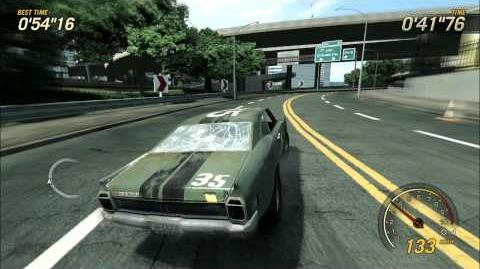 Trivia
[
]
In FlatOut 2, the Switchblade does not have windows, however, when the left door is damaged, you will see the broken glass flying out from the door.
The Switchblade appears in the greeting loading screen of FlatOut 2, beating another Switchblade. It re-appears as a background for the top drivers.
This car has a carburated V8.
In the concept the car has written "TURBO" at the side but the motor is a carburated V8.
Switchblade is one of cars, what have concept arts. Other two is Ventura and Road King.