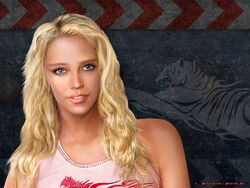 Sally Taylor is a driver featuring in FlatOut 2 and FlatOut: Ultimate Carnage. Sally was born on September 6, 1984 in the United States, Kansas, Topeka. She is Virgo according to the zodiac sign, and according to the eastern horoscope, the Rat. She is a girl from a farmer's family. She's 21 years old. Sally has long blonde hair and blue eyes. She sports a pink top with a red tiger decal (which can be seen on all of her vehicles), as well as white pants, red boots, and black fingerless gloves.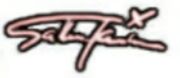 In-Game Description
[
]
Cheerful and not too worried about results, Sally is usually happy go lucky, but she can turn mean if her car is hit too often.
Driving Style
[
]
Taylor is a rather average competitor. She will occasionally come out on top of the pack, but in most cases you won't notice her often, due to her lacking any remarkable driving skills.
Sally is an average driver in the Derby Class. She drives the slow and heavy Roamer, which doesn't help her get very far ahead in races, but she is much stronger in demolition derbies due to the strength of her vehicle.
Yet again, Sally is an average driver in the Race Class. She drives another heavy vehicle, the Lentus, and its shifty handling gives her a disadvantage in races. However, she is once again a decent competitor in demolition derbies, due to the aforementioned qualities of her vehicle.
Sally is at her best in the Street Class. She drives the incredibly fast Road King this time around, which is quite a departure from the heavy trucks driven by her in the other two classes. She poses a major threat on the circuit tracks due to the speed of her vehicle, but she also loses control quite easily, giving her a disadvantage on tracks with lots of twists and turns. Due to the low strength of the Road King, she tends to perform poorly in demolition derbies.
Cars
[
]
Sally's identifying color is pink.


Despite this, her cars are white with a red tiger decal. Her Roamer and Lentus also sport the number 56.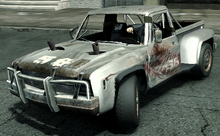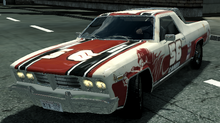 In FlatOut 2
[
]