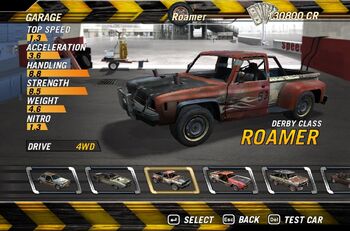 Roamer is Derby Class car in FlatOut 2 and FlatOut: Ultimate Carnage.
The Roamer is perfect choice for new drivers, being strong and easy to handle. Also fast enough to finish first if you keep mistakes to the minimum level.
It resembles a 1974's Chevrolet C10.
It's driven by Sally Taylor.
FlatOut 2 era.

Edit
Redline: 5.000 rpm
Price: 5000CR
Drive 4WD
Stock performance
Edit
Top speed 2.1(180 km/h)
Acceleration 3.6 (3 gears)
Handling 8.8
Strength 8.5
Weight 4.6
Nitro 1.5
Fully performance
Edit
Top Speed: 3.9 (210 km/h)
Acceleration: 4.2 (3 gears)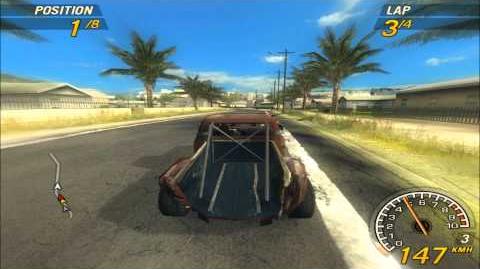 Handling: 10.0
Strength: 8.5
Wight: 5.1
Nitro: 2.6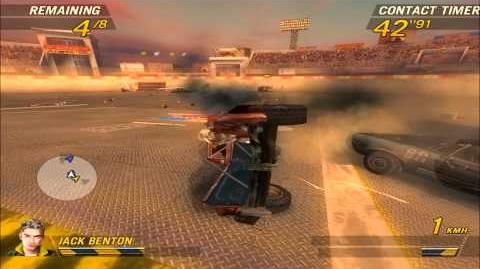 FlatOut: Ultimate carnage era
Edit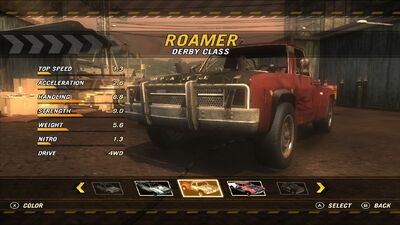 In FOUC the Roamer has been changed.
Top speed 1.3
Acceleration 2.6
Handling 8.8
Strength 9.0
Weight 5.6
Nitro 2,5
Drive 4WD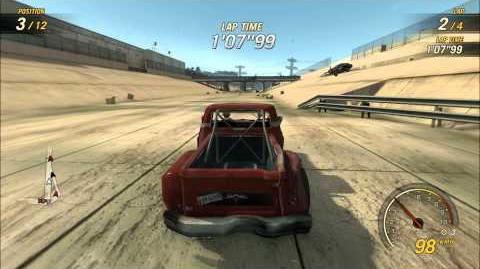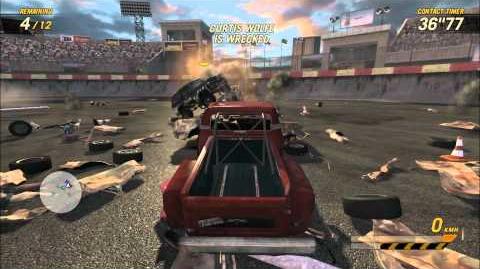 Its 4WD drive is linked to a big block, carburated V8. (Game model)
In FlatOut 2, the player starts his/her career with 5000 CR. The Roamer is also unlocked and costs 5000 CR. It's suggested to spend all your money on the Roamer instead of the Chili, due to its strengh and the many possibilities to win.
Roamer is the strongest, easiest to handle and the most expensive car offered at the beginning of the game, making it the best choice overall.
The Roamer is the strongest Derby class vehicle but not the easiest to handle. The handling is second best to the Blaster XL.