The Nucleon is one of the five Stunt Class cars available in Flatout 2 and Flatout: Ultimate Carnage. It has one large rocket coming through the rear bumper. Although not recognizable at first glance, the Nucleon actually is a heavily modified Malice from the Derby Class. This is evident if you compare them side by side and watch the small matching details like the shape of the doors, the windshield and the center pillar, as well as the tail lights.
The Nucleon has a bright yellow paintjob with a blue line containing three white stars on the bonnet. The sides are decorated with tyre marks and stars.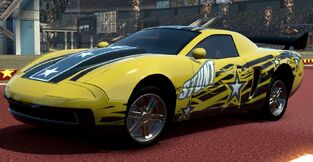 Appearances
Edit
The Nucleon appears by default in Flatout 2. However, in Ultimate Carnage, the player must get gold in at least one of the Carnage events with the Nucleon to unlock it for Single Player use.