Mad Rash
is a
Race Class
car in
FlatOut 2
and
FlatOut: Ultimate Carnage
.
It highly resembles the AMC Rebel with an Oldsmobile 442 front fascia. It is one of the low end cars in the race class, although it can compete with the higher-end cars when fully upgraded.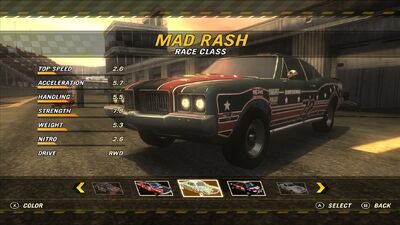 It is driven by Jill Richards in FlatOut Ultimate Carnage.
In Flatout 2 it has a mere 5.000 rpm redline, owing to a lazy and weak, despite it's big displacement and cylinder numbers. This is equivalent to trucks such as the Nevada owing to the same redline, which is fairly low even for a muscle car (although real life models could go as low as 4.500 rpm in the time they were mass-produced).
The Mad Rash has a low revving carburated V8 that doesn't really suit the car very well.