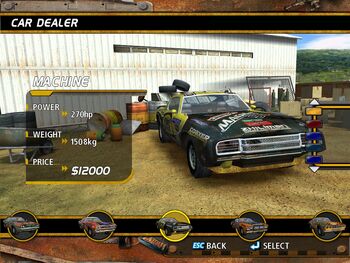 The
Machine
is a
Gold Class
car in
FlatOut
. While it is powered by a large-displacement V8, it only makes 270 horsepower and weighs over 3300 pounds, giving it an extremely low power-to-weight ratio.
Performance
Edit
Thanks to its rather large 6.5 liter V8 engine, the Machine is considered competitive enough for Gold Class racing, though it is the least powerful of all the gold class cars, and also one of the heaviest. However, its rather small wheelbase, low suspension and quick acceleration make it a formidable car on winding road courses in the hands of an experienced driver. However, daredevil drivers should be aware of the car's weakness, that being its suspension, which bottoms out over rather small jumps. Given the car's high-speed performance when upgraded, it will still suffer damage when driving over very small pieces of debris on the road, potentially breaking the axles and crippling the car's handling.
In demolition derbies, the Machine struggles compared to the other cars, despite its weight. While it is true that the car will be thrown around less violently when struck by other cars, it still lacks the structural integrity of other cars in its class. It is not difficult to succeed in derbies, though the car will likely have a fair amount of damage dealt to it before it will succeed.
The Machine is very much a "pony car," as it has a long front end and fastback styling with a small trunk.
It is the cheapest gold class car, at just $12,000.
Despite its high weight and low power, the car can be turned into a formidable racer when upgraded, making a decent 405 horsepower with all racing parts installed.
The Machine is a relatively easy car to roll off of debris, due to the fact that it tends to ramp off of things in the road.