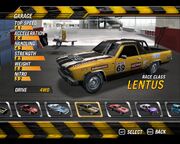 Lentus is a Race Class car in FlatOut 2 and FlatOut: Ultimate Carnage.
The Stunt Class variant of this car is Trailblazer.
The Lentus is a Race Class vehicle, that is heavily based off of a 1978-87 Chevy El Camino, with similar headlights to that of a 1970 model. it features great top speed, and strength for a car of its class, and is a favorite of many players, during career mode, and online play.
It is quite heavy, especially at the front. At the speeds it can attain, the Lentus can dish out serious damage. It can accelerate very fast at low speeds and will often hit the car in front at the start of the race. It can also land jumps fairly well. However the Lentus can be a nightmare to handle at low speeds and in corners. At low speeds its acceleration combined with soft suspension makes the Lentus quite unstable and prone to spinning out. It suffers from much understeer at high speeds and can be twitchy. It is best used by the more experienced drivers. A very good derby contender, the Lentus is fast and very strong. However its large size makes it an easy target and the player should avoid missing hits at all costs, as the Lentus is slow to recover and reverse. It is also unpredictable and can land its driver in the worst of scenarios at an unexpected time (e.g. spinning out, bouncing).
In Flatout: Ultimate Carnage, the Lentus has significantly changed. It has become much lighter and more delicate and demands a cleaner driving style. The lighter weight helps its handling somewhat, but it can still be a handful to control. Its top speed has fallen slightly.
It's driven by Sally Taylor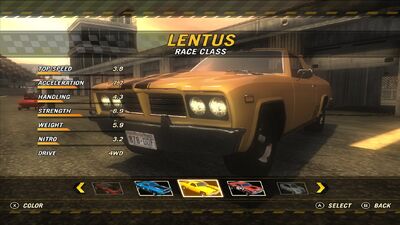 Redline: 5.500 rpm (Flatout 2)
Class:Race Class
Type:Pickup Truck/Car
Capacity:2 Door
Cost:22500
Drive:4WD
0-100 km/h............ 3,300 sec
0-160 km/h............ 6,633 sec
0-200 km/h............ 9,600 sec
The engine is a carburated V8.
The Lentus has a New York license plate.
Fully upgraded Lentus uses the first gear from 0-100 km/h.