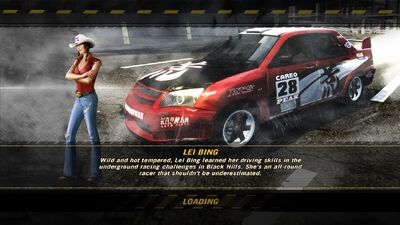 Lei Bing is one of 11 drivers in FlatOut: Ultimate Carnage.
Wild and hot tempered, Lei Bing learned her driving skills in the Underground racing challenges in Black Hills. She's an all-round racer that shouldn't be underestimated.
Lei is very fast driver. She is always in the top in the Derby and Race Class events. But she isn't so good in the Street Class races. She is the 3rd best driver in FOUC right behind Jack Benton and Sofia Martinez. But she is better than both of them in Derby Class and Race Class due to her fast cars.
Bing's identifying color is bright red. Her cars are always red, crowned with black and white Chinese tribals.
Quite unpredictable in Derby-class, Lei either places in podium, close to last place, or gets Wrecked (which happens relatively often). She is extremely fast due to her Grinder, but she is also incredibly careless, sometimes slamming into walls without any other obstacles. She is a very poor driver in derbies, often spinning in circles.
Often places in podium in Race-class, Lei is helped by a very fast Insetta and she drives very clean. However if harassed, she almost certainly gets Wrecked due to the glass strength of the Insetta. A poor driver in derbies, often getting Wrecked in the first crash. If she survives that, she is very hard to hit due to the Insetta's fast speed and her fluid driving style.
A relatively good driver in Street class despite driving the Insetta Sport. Lei is an efficient driver who would drive aggressively to gain nitro if necessary. Rarely makes mistakes, although she often gets Wrecked due to her aggressive driving and weak car. A mid-tier derby driver, her car is weak but she makes up for it with agility.