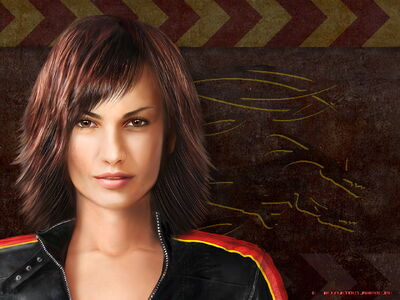 Katie Jackson is a driver featuring in FlatOut 2 and FlatOut: Ultimate Carnage. Katie has shoulder-length brown hair and brown eyes. She wears a black and red racing suit, with red dragon decals on the pants. The number 61 is also present on her top (as well as her Switchblade and Lancea vehicles).
In-Game Description
Edit
The former casual-drivers club president is now on the verge of a nervous breakdown after too many rush-hour traffic jams. You should give her plenty of track space!
Driving Style
Edit
Jackson is relatively strong driver, although not quite in the same league as Jack Benton and Sofia Martinez. She usually likes to stay out of the way of other drivers, but will become aggressive if provoked.
Katie is at her best in the Derby Class, often placing in the top three. She drives the tough and fast Switchblade, where she can be difficult to overtake. She also displays her aggressive side most often in this class, but only if you get in her way. Due to her aggressive tendencies coupled with her strong vehicle, she usually does well in demolition derbies.
On the other hand, Katie's weakest point is in the Race Class. She drives the Lancea, which is prone to spinning out. It's rare that she places in the top half in this class. Demolition derbies are also not a strong point for her here.
In the Street Class, Katie drives the Chili Pepper, where she can be a surprisingly strong racer, despite her vehicle's shortcomings. When you least expect it, Katie will creep up the ranks and into the top three. However, she is easy to wreck due to the weakness of her vehicle, and because of this, she is one of the worst competitors in demolition derbies.
Katie's identifiying color is red. Her cars bear a red paintjob with dragon tribals. The number 61 is present on her Switchblade and Lancea vehicles.