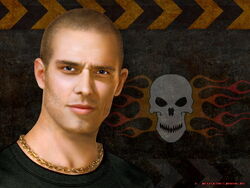 Jason Walker is a driver featuring in FlatOut 2 and FlatOut: Ultimate Carnage. Jason was born on December 17, 1978 in the United States, Ohio, Columbus. He is Sagittarius by his zodiac sign, and by the eastern horoscope he is a Horse. He is a bartender / biker. He is 27 years old. Jason has a (mostly) shaved head and hazel eyes. He dresses rather casually, wearing a black t-shirt with matching shoes, and tattered blue jeans. He also wears a gold necklace, and a brown belt with a skull serving as the buckle. Tattoos are also present on Jason's right arm, one of them being a flame.
His original name was Paul McGuire.

In-Game Description
[
]
Aggressive and unpredictable, Jason has the skills to be a serious threat in any race.
Driving Style
[
]
Walker is one of the stronger drivers in both FlatOut 2 and FlatOut: Ultimate Carnage. As stated in his description, Jason is aggressive and proves to be quite a threat at times.
Jason is a good driver in the Derby Class, using the strong and sturdy Shaker. He rarely makes mistakes in races, and he does well in demolition derbies, due to his aggression and the fact that his vehicle is pretty well-rounded.
A very good driver in Race Class, Jason is conservative yet aggressive in the Bullet. He rarely makes mistakes and drives in an efficient racing line. An average competitor in derbies, Jason often spins in circles, but once he gets moving he can cause a lot of chaos and become troublesome to take down.
Jason is one of the toughest opponents in the Street Class. He's incredibly fast in the Speedevil, and can often be seen towards the front of the pack. However, he sometimes gets careless and loses control of the vehicle. Despite Jason's prowess as a racer, he usually does poorly in demolition derbies in this class.
Cars
[
]
Jason's identifying color is pale black.

His cars bear a black paintjob, and are crowned with graphic flames and a skull. The number 32 is featured on his Shaker and Bullet vehicles.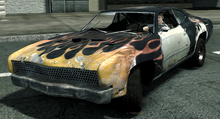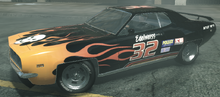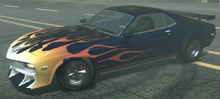 In FlatOut 2
[
]