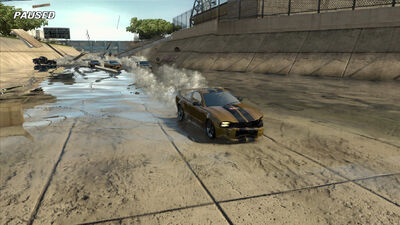 The game mode are options (commonly found in Main Menu) that the player freelly can choose. There many of them, including Derbies, Races, or Online.
Singleplayer
Edit
Career
Quick race
Bonus
Stunt
Time trial
Multiplayer
Edit
Hot seat (not able to play demolition arena, nor super mud bowl)
Network play
Singleplayer
Edit
Career
Single race
Single Stunt
Single event
Single derby
Multiplayer
Edit
Singleplayer
Edit
FlatOut mode
Carnage mode
Race
Stunt
Derby
Time trial
Bonus
Multiplayer
Edit
Player match
Edit
Race: Race; Head On
Derby: Wrecking derby; Deathmatch derby
Stunts
Mixed
Party mode
Edit
In FlatOut 2 there are leftovers of a game mode called "Instant Action". This mode meant to put the player in an instant race, in a random selected map and car. The mode is cut before release, however, it can be re-enabled. There are also other modes like "Developer Menu" and "Menu Debug", but they cannot be enabled.

In addition, according to game files of FlatOut 2, a mode named "Time Attack" is meant to be featured, but was cut too. Files for it still exist, and even menu icons. It was probably similar to Time Trial from the first FlatOut.