Fortune is a Race Class car in FlatOut 2 and FlatOut: Ultimate Carnage
Fortune is a tier 2 race car and as such has mid-range performance.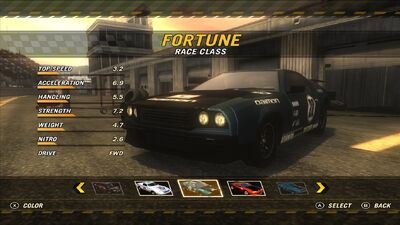 It is fast with decent handling but low durability.
It is generally superior to most of the cars in its class, albeit higher end cars like the Insetta.
It is good for cornering and for derbies, but it also has good traction on rural and desert environments.
It's driven by Jack Benton.
The Stunt Class variant of the Fortune is the Starflight.
The engine is a V8, altough in real life the DeLorean was powered by a V6.
It is rear engined and has a front wheel drive, a rare combination.