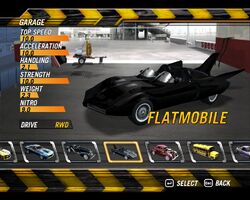 Flatmobile
is a
Bonus Class
car in
Flatout 2
and
Ultimate Carnage
.
It is one of the cars that can be obtained through a code or in multiplayer mode. It is much harder to control than the Rocket, but is much faster.
"So light and easy to break, so fast, hard to handle."
It highly resembles the GM Firebird III, with elements taken from the custom 1956 Lincoln Futura "Batmoblie" by George Barris.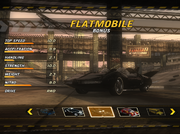 Top Speed: 10.0
Acceleration: 9.9
Handling: 2.1
Strength: 10.0
Weight: 2.3
Nitro: 9.0
It is the fastest car in the series, able to drive 300+ MPH
Most players in multiplayer mode will kick the player(s) who use the Flatmobile due to its fast speed, unless the host is planning a race with everyone using the Flatmobile.
In Flatout 2 this car can be unlocked using the "WOTKINS" cheat code. This is a reference to a Finnish meat wholesaler.
Its name and appearance is a reference to the Batmobile from the 1966-1968 episodes of Batman, the television editions of the series, but can look like the GM Firebird III when the silver paint is selected.
When the race starting countdown ends and goes to GO! with throttle button held, you will hit the front opponent's car in less than a second, awarding you a "Slam!". This is because of the car's incredible acceleration.