FlatOut 3: Chaos & Destruction is a racing video game developed by Team6 Studios. Previous developer of FlatOut -series was Bugbear Entertainment.
The game was released only for Microsoft Windows in 2011.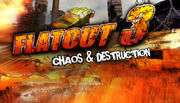 Reception
Edit
The game had negative impact on the fans of the FlatOut series due to major changes and broken gameplay also mentioning the low budget look and its underwhelming car physics and damage system. Most of the fans responded with comments that involved comparisons between the new game and older titles of the series, praising the games that were developed by Bugbear Entertainment.
It is only the second game in the 18 year history of Edge to receive a score of one out of ten (Kabuki Warriors was the first.).
Eurogamer criticised all aspects of the game; especially the controls and the opposition AI. It also lamented the fall from grace of the Flatout series as a whole. It summed up its review by saying "You could go mad trying to rationalise Flatout 3. It is not bad in the way that a game like Boiling Point is bad, where things coalesce into a kind of awful greatness. This is a tacky and technically incompetent production with no redeeming features whatsoever, devoid of fun and an insult to the name it bears. Flatout once burned bright, but now is gone - and if there is a driving hell, this is surely it."