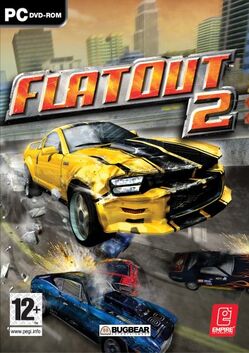 FlatOut 2 is a racing video game developed by Bugbear Entertainment and published by Empire Interactive and Vivendi Universal Games. It is a sequel to the 2004-2005 release FlatOut.
This game is themed more on the street racing/import tuner scene than its predecessor. Another notable change is the tire handling; players can now take more control of their car, worrying less about skidding in tight turns. The game has three car classes: derby, race and street.
It was first released in Russia on June 29, 2006, then in Europe on June 30, 2006. The North American version was released August 1, 2006.
On October 3, 2008, A Mac OS X version was released by Virtual Programming.
The ragdoll physics in the sequel have been greatly updated. During the race, the driver may be thrown out of the car if slammed into a wall at a high speed. In the numerous Stunt minigames the goal is to shoot yourself out of the car and complete objectives like knocking down a set of bowling pins, hitting the designated spots on a dartboard, score a field goal or fly through flaming hoops. Players must use 'aerobatics' to control the driver in-flight, but overusing it will increase drag, which will slow the driver down and possibly prevent him/her from reaching the designated target. If the driver falls short of the target, players can use the "nudge". This gives the driver a small upward boost and slightly reduces drag. In the Stone Skipping Stunt minigame, the players must use nudge just as the driver hits the surface of the water to skip the most efficiently and reach the furthest.
The Ragdoll Physics have prompted the German software rating organization USK to rate FlatOut 2 18+, and Empire Interactive to publish a German version rated 12+ that replaces the human drivers with crash test dummies. This version is also produced for the Japanese market.
In 2008 the game was re-released for PSP with additional features and soundtrack from FlatOut: Ultimate Carnage, under the new name FlatOut: Head On.
Won IGN's award for Best PlayStation 2 Racing Game of 2006.
Won Xplay's award for Best Racing Game of 2006.

Community content is available under
CC-BY-SA
unless otherwise noted.