FlatOut (a.k.a. FO or FO1) is a racing video game developed by Finnish Bugbear Entertainment and published by Empire Interactive and Vivendi Universal Games in 2004 and 2005. Gameplay in Flatout places emphasis on demolition derby-style races, and features a sophisticated physics engine. 16 different cars are included, each with 5 different colours for them.
Modes in
FlatOut
include standard lap races, in either open environments or stadium laps, and demolition derby deathmatches, in which the driver of the sole-surviving vehicle declared the winner; both modes pit players against 7 computer-controlled opponents. The game also includes special events which require the player to toss the driver off of his/her vehicle and meet certain requirements. In career mode, pick up your future top racer from the junkyard. Winnings come in the form of cash, which allows players to purchase vehicle upgrades and new vehicles.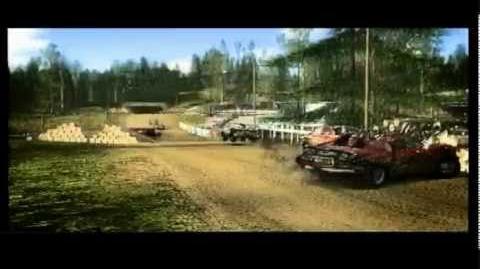 FlatOut is noted for its extensive use of physics in vehicle damage and collisions; dents on vehicles may vary based on the type of accident, object and angle of impact (falling objects, for example, will damage mostly the upper areas of a car), while many roadside items react better to collisions from other vehicles.
Ragdoll physics are also present in the game, with drivers capable of being tossed out of their car after high-impact crashes. This feature is extensively used in several special events, when the player is required to "toss" a driver to a specific distance, height, or target.
During an update in 2007 FlatOut was made forwards compatible with the Xbox 360.
A list of the cars available in-game can be found here. For additional details, see the individual pages about the 16 different cars available in the game.
This is the first and only FlatOut game in the series which allows you to eject your driver at any time, any track, any car with the use of a cheatcode and a key (A).
This is the only FlatOut game that allows you to fully explore maps, since theyre fully modeled. FlatOut 2 and subsequent games automaticly reset you back to track. However, in both FlatOut 2 and FlatOut Ultimate Carnage it's possible to do it with the use of mods. But reaching too far from the map will eventually make the car falling under the map and then reseting.
External links
Edit
Community content is available under
CC-BY-SA
unless otherwise noted.