FlatOut: Ultimate Carnage
is the third game in the
FlatOut
demolition racing series, known earlier as
FlatOut: Total Carnage
.
FlatOut: Ultimate Carnage
was officially announced February 1, Microsoft Windows version was released through the Steam network on August 26, 2008. There is also a handheld version of the game for the PlayStation Portable called
FlatOut: Head On
.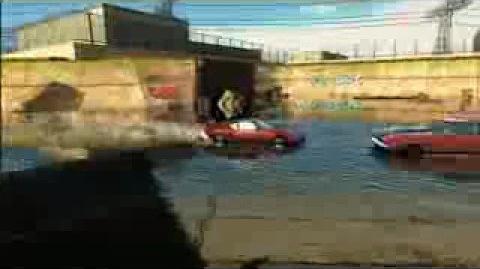 Gameplay
Ultimate Carnage introduces a brand new series of tracks which are based anywhere from busy streets to storm water drains.
The cars are more detailed than they were in previous games of the franchise, employing the latest advancements in dynamic lighting and shadow technology, and a greatly enhanced damage and physics engine where each car is made of up to 40 separate destructible parts. The single player game supports up to 11 other AI-controlled cars in each race.
A new multiplayer format is also included, it runs on the Games for Windows - Live system which requires you to either sign in to your Xbox LIVE or Games for Windows LIVE Gamertag, or sign up for one for free. Unlike the previous two Flatout games for Windows, the LAN function is not available in this game.
Reception
Hyper's Maurice Branscombe recommended the game for "looking and playing better than ever before".
See Also
Community content is available under
CC-BY-SA
unless otherwise noted.