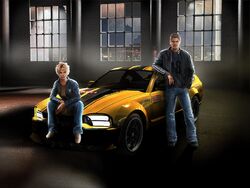 The drivers in FlatOut are different AI or players with different skills and style of driving.

Frank Benton
Katie Daggert
Paul McGuire
Ray Smith
Sue O'Neill
Seth Bellinger
Tania Graham
All the AI drivers from FlatOut 2 are back + 4 new drivers.
Trivia
[
]
The male player character's name is revealed to be Silen Einnor in Flatout 3 with the description "The winner from the previous FlatOut has returned. Will he be able to win again?"