The Desert Oil Field is one part of the big Location: Desert in FlatOut 2 and FlatOut: Ultmate Carnage. This track in the Desert .
Description
Edit
​A wild canyon ride during a serious heatwave. An abandoned oil facility anf broken bridge are the main sights here.
FlatOut 2 era
Edit
In
FlatOut 2
there're so much objects and the track is cool and you can have a lot of fun on the broken bridge and old oil fabric.
FlatOut: Ultimate Carnage era
Edit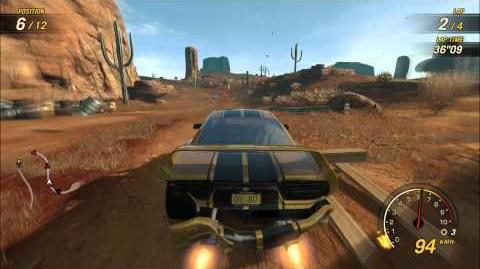 In
FlatOut: Ultimate Carnage
the track has been changed. There're more objects, the track is more interesting and unpredictable at all.
Now, you can race by day and sunset.This means that you can change the time of day and play with different map's lights.
So, you still can have fun on this track.