Daytana in FlatOut 2
Edit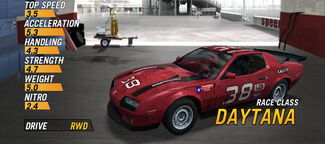 Daytana is a Race Class car in FlatOut 2 and FlatOut: Ultimate Carnage.
The Daytana is an 1980's muscle/sports coupe that resembles the 1987 Chevrolet Camaro Z-28, and the 1983-1994 Dodge Daytona IROC-Z.
Although tough to handle and slow at lower speeds, the Daytana is quite fast when it reaches higher speeds. It is heavy especially at the front and can hit very hard. The Daytana's main drawbacks are poor nitro boost and strength. Jumps may be uncomfortable due to its low ground clearance and front-heavy nature. It is not a very good derby car and is best used in racing.
It has a mere 5.000 rpm redline, same as MadRash, but with even bigger displacement and slightly reduced weight compared to it. Still, it's fairly low for a sports car.
Ultimate Carnage
Edit
The Daytana has changed significantly in Flatout Ultimate Carnage. Its appearance has become much more aggressive and looks more like the 1987 Camaro, and sports a Chevron paint job instead of stripes. Its acceleration and strength have improved drastically. In the right hands, it is a serious threat in derbies due to its front-heavy nature.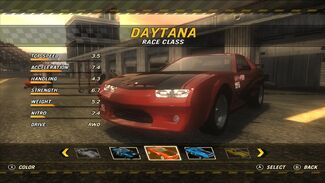 It also now features wheels that are based on the Centerline style wheels that were popular in the late 80's and early 90's.
It's driven by Lewis Duran in FO:UC.
The engine is a V8. Carburated.
The name is an obvious reference to Daytona.