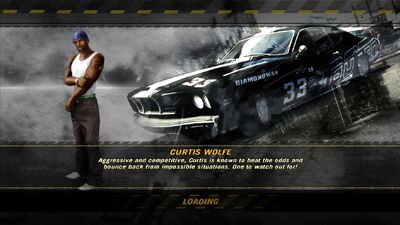 Curtis Wolfe
is one of 11
drivers
in
FlatOut: Ultimate Carnage
Aggressive and competitive, Curtis is known to beat the odds and bounce back from impossible situations, being one to watch out for.
Derby-class is the only time Curtis lives up to his description. Although quite careless, his very fast Bonecracker allows him to catch up to the lead quite quickly. His attitude in races means he gets Wrecked often. He is a solid competitor in derbies due to his car's high strength and agility.
He is very poor in race-class, often placing close to last place. This is mostly due to his car, the Boxer. He often takes corners wide, making him an easy target to hit. That said he rarely gets Wrecked in ordinary races as he is too slow to take risky actions. He is also very poor in derbies, often getting stuck and getting Wrecked due to the Boxer's low weight.
He is a mid-tier racer in Street class. He rarely makes mistakes due to the Speedshifter's forgiving nature.
Wolfe's identifiying color is black. His cars are black with white details such as the "Boxer" decal even though it has been used on different types of vehicles rather than the Race class type car.