Crusader
is a
Street Class
car in
FlatOut 2
and
FlatOut: Ultimate Carnage
.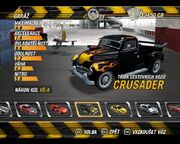 In both games, it is driven by
Frank Malcov
. The Crusader recembles a 1947 Chevrolet Thriftmaster.
The Vehicle
Edit
The Crusader is a seemingly heavy, 4WD pick-up truck, but not as heavy as the Canyon. As such, it is very competent around corners, and the weight keeps the vehicle planted to the ground round those tricky dirt hairpins. Unfortunately, the top speed is quite low, so the Crusader is best suited to derbies or short, tight racetracks. Crusader is best suited to an aggressive driver who is willing to win the race by any means necessary, and by taking big risks.
The Crusader is the slowest Street class vehicle, but makes up for it in sheer handling. It is fast off the line and is quite agile. It has good suspensions and a high ground clearance suitable for taking jumps and it is not easily disrupted by lighter debris. A bit unpredictable in handling, although the skilful use of the handbrake can result in some quirky moves such as a reverse corner entry or a flatspin. Despite its high strength, it is quite lightweight and easily pushed by heavier cars. A mediocre derby contender, its high agility and good resilience to harsh conditions allows the Crusader to keep its stature in the derby. Its small size also presents a small target. However it is not suitable to shaking other cars off its tail and drivers should be weary of its low weight and mediocre durability.
The Crusader has changed substantially in Flatout: Ultimate Carnage. It has become one of the heaviest and strongest cars in the game, still retaining its slow speed albeit its top speed seems to have improved relatively so. Its handling is poor in this game. It is unpredictable and twitchy in handling and its low ground clearance makes landing jumps particularly uncomfortable. Very touchy towards debris, even a stack of tires could roll or spin the Crusader. Still it is surprisingly agile for its weight. A very good derby car, this time the driver has a huge strength advantage and the small size presents a small target. However it is easy to outmaneuver due to uncomfortable handling and poor grip. It is also slow and struggles to catch other cars.
In Flatout 2, it has a 5.000 rpm redline, which for a truck of it's time, was about average for a petrol engine, V8 powered truck.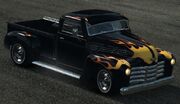 SPEED: 2.5
ACCELERATION: 6.9
HANDLING: 6.5
STENGTH: 7.8
WEIGHT: 9.0
NITRO: 2.8
DRIVE: 4WD
The car's V8 engine has a carburator.