Jurassic World: Dominion Dominates Fandom Wikis - The Loop
Play Sound
Chili is a Derby Class car in FlatOut 2 and FlatOut: Ultimate Carnage. It is one of the three choices for the player's first vehicle when starting Flatout.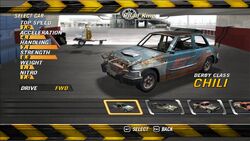 It resembles a dilapidated Renault 5/Le.
Although the Chili is very slow (the slowest car in the game) it is also very light and durable. It performs well in tight circuits, but is a poor choice in derby events, at least for the more aggressive driver.
The Chilli is the derby car of choice for Sofia Martinez.
The Chili is the derby variant of the Chili Pepper, in the Street Class. The Chili Pepper is driven by Katie Jackson.
The Chili bears some resemblance to the Pepper in the original FlatOut.
also his design is very similar to the first generation renalt 5 with rear engine
FlatOut 2 era
[
]
Price: 3000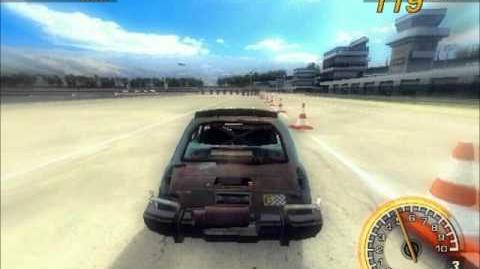 Drive RF (Rear Engined, Front Wheel Drive)
Redline: 6.500rpm
Stock
[
]
Top Speed 1.7 (158 km/h)
Acceleration 4.1 (4 gears), (7,2 s)
Handling 7.1
Strength 6.9
Weight 1.1
Nitro 1.0
Fully Upgraded
[
]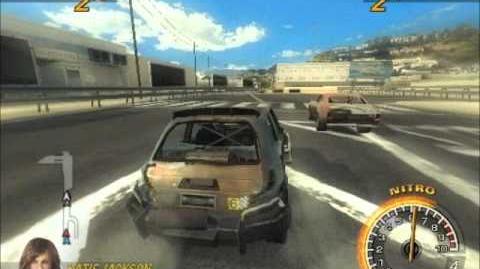 Top Speed 3.6 (172 km/h)
Acceleration 4.8 (4 gears), (6,6 s)
Handling 8.3
Weight 1.4
Nitro 2.6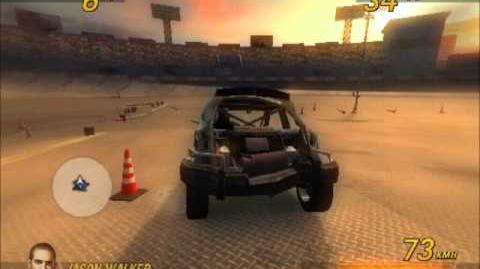 FlatOut: Ultimate Carnage era
[
]
Ultimate Carnage, the Chili has been changed.
Top speed 3.9
Acceleration 5.0
Handling 7.1
Strenght 8.0
Weight 1.2
Nitro 2.4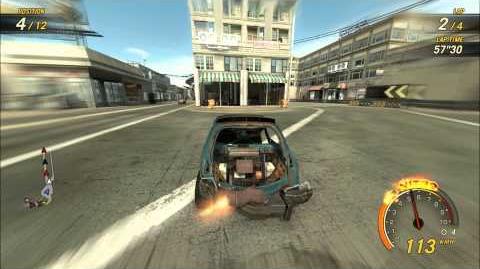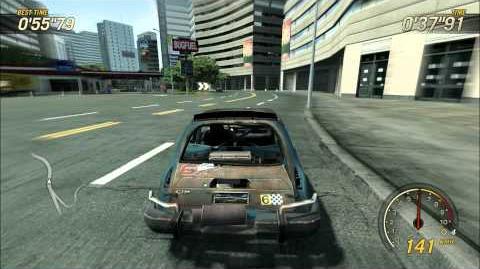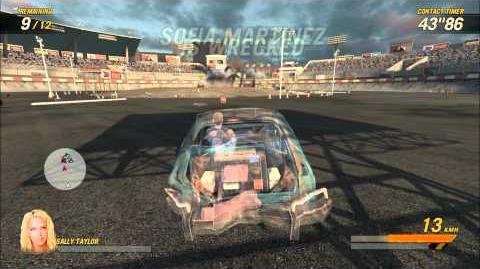 Trivia
[
]
The engine bay resembles a transversally mounted inline 4 engine. How this was achieved with a rear wheel drive car is up to discussion.
In Ultimate Carnage, the car is required to complete the achievement "Real Habanero", which requires the player to win all cups in Derby Class in Flatout Mode with a stock Chili.