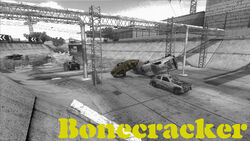 Bonecracker is a Derby Class car in FlatOut: Ultimate Carnage, and the second one of the 2 new cars in the game, with the other one being Grinder.
Bonecracker is a fast car which boasts of monstrous acceleration, a decent top speed and also the ability to take quite a lot of punishment.
It's driven by Curtis Wolfe. The name "Bonecracker" was originally used in FlatOut. For information regarding that car, see Bonecracker (FlatOut).
It has basically the same appearance as the Switchblade, with a few minor changes, like the Pontiac GTO front fascia.
Bonecracker's license plate is "PW-N3D (Pwned)" Which is a leetspeak slang term derived from "Owned".
FlatOut: Ultimate Carnage era.
[
]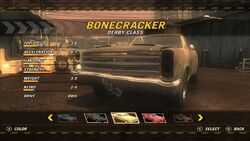 In FO2/UC series you can drive this car only in FOUC, so this is the one of the latest cars in FlatOut.
Top speed 6,5
Acceleration 8.1
Handling 4.3
Strenght 9.2
Weight 3.9
Nitro 5,6
Drive RWD